Home
Enjoy another slide show from several past festivals here.
Step into the year 1585

when Queen Elizabeth I was England's magnificent monarch. This is the age of legendary 
characters like William Shakespeare, Sir Walter Raleigh, Sir Francis Drake and a host of famous Dukes, Earls, Lords, Ladies, rogues and scoundrels whom you'll see going about the village. Remember to remove your hat as Her Majesty parades though the streets with her stunning Royal Court, accompanied by her handsome foot soldiers and hand maidens.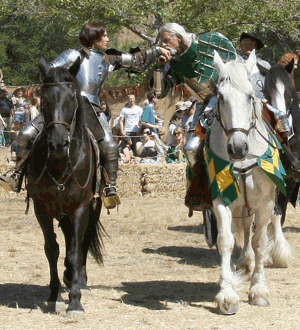 Attend the Royal Joust. This isn't make believe – it's the real thing! This isn't something you see every day – men in full armor atop huge war steeds, charging at each other with lance in hand. Watch as they test their skills at various authentic contest games, ending with real combat. Get there early and prepare to cheer for "your" Knight! These are internationally recognized professional jousters.

Relax on a shady haybale and watch riotous stage plays and hilarious comedy acts on multiple stages throughout the village. See authentic Elizabethan dancing, plays, singing, a comedy parrot show, juggling acts and buffonery, as well as demonstrations of military skills, woodworking, leatherworks and much more. Enjoy the Queen's finest ales, beer and wine while being entertained by musicians, rogues and dancers.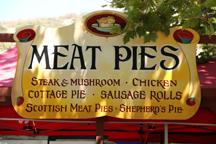 Treat your tastebuds to a bounty of delicious foods such as BBQ Beef Stick • Chicken Stick • Dragon Dog • Ice Cream • Italian Chicken Breast Sandwich • Italian Chopped Steak Sandwich • Italian Ice • Italian Meatballs • Italian Sausage • Meat Pies • Pan Fried Rice & Noodles • Polish Dog • Pretzels • Shrimp Stick • Vegetarian Roll • Waffles and more. Of course there are those famous gigantic fire roasted turkey legs that people love to wave about. The enticing smell of freshly cooked food wafting through the village is sure to stimulate your appetite.
Watch peasants, soldiers, merchants and royalty strolling about the village while you are enjoying your feast. They, too, are enjoying this summer marketplace just as you are. Don't be surprised when they greet you in the Queen's tongue – just say "Good Day" in return. You'll find youself slipping into Elizabethan in no time.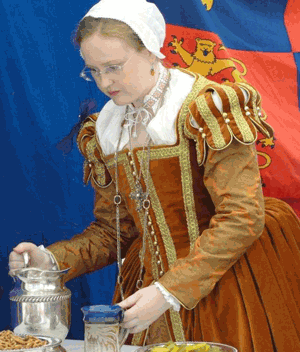 You'll be delighted by over 50 of the finest craftsmen selling the most unique crafts and goods you've ever seen. From hand thrown pottery to drinking vessels, there is something for every taste and budget. Gentlemen always enjoy shopping from the sword and leather merchants, while ladies can't resist the array of fine clothing and jewelry. You can even have your hair braided into the most beautiful designs and get a henna tattoo.
There is something for all ages. Your youngsters will enjoy face painting, pony rides, a petting zoo and games just for them. Storytellers and musicians wander the village and kids always enjoy the juggling shows. Of couse, everyone loves the Royal Joust!
Bring your friends and family for the time of your life. There simply is not other event like this in San Luis Obispo County, and it only happens on one weekend – July 20 & 21st in The Enchanted Forest of San Luis Obispo's beautiful Laguna Lake Park.
Please leave pets at home. No dogs allowed.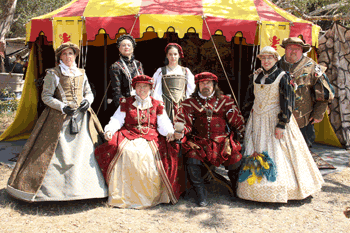 Costumes Welcome But Are Not Required
Sometimes people think they have to wear a costume to attend the festival. This is not true! Only the participants putting on and participating in the festival are required to wear costumes (we call it "garb"). You may come as you wish. 
However, you are more than welcome to come in a full costume, or perhaps wear a peasant blouse, hair wreath or hat that makes you feel more a part of the fantasy. Check out Goodwill for some inexpensive costume pieces. There are plenty of vendors in the festival who have everything you might wish to purchase, from hats, shirts, bodices and breeches to handmade boots and shoes, you'll find everything needed to become an Elizabethan at any level from peasant to royalty.
If you do want to put together a costume, we highly recommend Elizabethan Costuming For The Years 1550-1580 as your guide (it's also a good shopping guide). It is the best costuming book available for creating a Renaissance costume. You can order it by clicking the link below:
Click To order Elizabethan Costuming (For The Years 1550 – 1580)
Click here to see a great collection of individual costume patterns.
If you wish to purchase an inexpensive, ready-made costume, click here.
Want to learn more about life in Elizabethan England? Click here …