Lodging
Spend the weekend and enjoy the Renaissance Festival during the day and our lovely San Luis Obispo County weather in the evening. Within minutes of the Renaissance Festival you will find lodging and restaurants for every taste and budget.
Camping at El Chorro Regional Park is reserved for the Faire participants only on the weekend of the festival. However, there are wonderful campgrounds nearby in Morro Bay, Los Osos, Pismo Beach, Oceano and San Simeon.
You can also find great lodgings in quaint yet chic San Luis Obispo, about eight minutes away, which is the center of San Luis Obispo County. This is the height of the tourist season, so you may want to shop around.
If you haven't been there you must visit scenic Morro Bay, just a few minutes west. You'll find lots of lodging options and a wide range of restaurants. Seafood, of couse, is at the top of many menus there.
About 30 minutes north of the faire site, on beautiful Highway 1, is Cambria. This is a quaint little seaside town that reminds people of Carmel. Check it out by clicking here.
Get 2 FREE Tickets
Stay 2 nights in beautiful Morro Bay at the La Serena Inn, Masterpiece Motel or San Marcos Inn and receive 2 FREE TICKETS to the Renaissance Festival. Just mention this special when making your reservation. See all three locations at pacificcoastgetaways.com.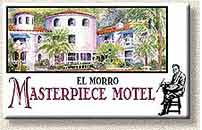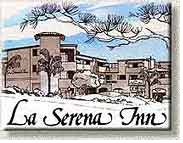 Additional tickets may be purchased at full price.
Here are some links you may find helpful:
This week's lodging availability listing!
Visitors and Conference Bureau
San Luis Obispo Chamber of Commerce
An extensive listing of San Luis Obispo area lodging