Here is what you will see and do in our village…
While there are 2 stages offering constant entertainment plus a jousting area featuring a full combat joust twice daily, think of the entire festival site as one big stage. As you walk about you are surrounded by hundreds of costumed participants who will greet you in the manner of the day, such as "Good Morrow, Fine Sir," or "Grant Thee Good Day." Spontaneous theatrics will appear at any time. Even the vendors will greet you with with a hearty, "Good Day and Well Met" as you pass by. It's all in good fun and part of a grand experience. All of the following is included in the price of your ticket.
See the 2014 entertainment schedule here. The 2015 schedule won't be available until early summer. Below are acts from 2014.
Her Majesty Queen Elizabeth and Her Royal Court - There aren't words enough to describe this stunning show. Queen Elizabeth is on her summer progress about England. She is accompanied by her many Lords, Ladies, household servants and the Royal Guards. This is truly a sight to behold. They not only look good but throughout the day they perform dances and display their many talents to entertain Her Majesty. Don't be shy about taking photos – they are quite happy to accommodate. Knights of the Crimson Rose - Sir William Skyhammer and the mighty warhorse Rohan are just the start of this jousting spectacle.  If you've ever wanted to see knights in armor jousting just as they did in the Renaissance, this is the show for you!
Cloak of Tales - Award winning author, Michael Todd Gallowglas, escapes his keyboard and dons his Cloak of Tales, taking to the stage, spinning stories of adventure, mystery, and wonder. His breath-taking perfomances have entertained audiences for nearly two decades. With original stories and traditional folk tales from around the world, these stories will delight one and all with twists and turns, with surprise endings which few will anticipate. Choose a story from the fabled Cloak of Tales and find yourself transported into worlds previously undreamed of.
Out of Kontrol - Out Of Kontrol is an improv comedic juggling and stunt show involving audience participation, a bit of slap stick and a lot luck. 4 skilled performers showing off for the audience with dangerous stunts and a lot of laughs at personal expense. Juggling, fire eating, acrobatics and much more.
Wren of Iniquity - Tight vocal harmonies on traditional English folk and silly sea songs, accompanied by mandolins, mountain dulcimers, bass, fiddle, whistles and Celtic Harp. We bring a style that is both lively and pretty to these wonderful story songs, which will fit beautifully with the ambiance of the beautiful new location at Laguna Lake Park.
The Secret Life of William Shakespeare - A comedy stage play, a mini-musical, in which Shakespeare's rival Robert Greene tells his "true story" of the famous writers circle at the Mermaid Tavern that launched the careers of Marlowe, Jonson, Spenser and, of course, Shakespeare. This is a big and raucous show with some production numbers. Rated PG.
Fowl Tales -  Ahoy!  Bob Bartley and Curtis bring you the only Pirate Parrot Show in California!  Demonstrating a lifetime of training and friendship, Bob and Gypsy will amaze the crowd with piratical hilarity!
Full Circle Falconry - Falconry is an art. It requires long hours, constant devotion, finesse, subtlety and skill. The falconer must train a bird of prey to fly free, hunt for a human being and then accept a return to captivity. In this show Falcon trainer Kenny Elvin will demonstrate this ancient art with his birds. This is pure poetry in motion and a rare sight.
Double Crown Dancers: Belly Dancing and entertaining as well as teaching of various dance styles in the world. Because we traveled as ambassadors to England we traveled the world and brought our dancers, guards and all necessary personnel with us. A we traveled to other countries to encourage them to fight for England against Spain.
Constables of The Shire - The Constables of the Shire is a street improv group that recreates the citizen-police of Shakespeare. We base ourselves loosely (very) on the Constable humor as found in our frequent use of malapropism, a technique Shakespeare would use again in Elbow from Measure for Measure, and poking fun at the amateur police forces of his day, in which respectable citizens spent a fixed number of nights per year fulfilling an obligation to protect the public peace, a job for which they were, by and large, unqualified. We strive to uphold this tradition.
Barleycorn Country Dancers – Whether you catch them in a stage show or dancing in the street, the Barleycorn Country Dancers are a perennial favorite in our village. Enjoy seeing authentic Renaissance dances and if the spirit moves you – join in!
Dueling Dame - Bring the kids and let them learn to sword fight! The Dame will teach you to wield a sword. Ages 4-14. PS: This probably sounds like a mother's nightmare but don't worry moms, the techniques are real, but the swords are foam! Victoria Goring is a Fight Director who has choreographed extensively for the stage and screen. Victoria empowers actors of all ages to work safely without trepidation. Actors learn the dynamics of stage combat in order to create original moves connecting action to storytelling, so that the actor moves with purpose and emotional intent.
New Queen's Ha'Penny Consort - An ensemble of musicians who play Renaissance Music in support of the Queen and the activities of her Court.
Countryside Gypsies - We are people from the Near and Far East. We travel from village to village using their skills and talents to survive in England. We seek work on farms, with skilled craftspeople in the villages and outlying areas. Some of us work on the streets by entertaining the towns people with our music, dance, story telling, juggling, magic tricks and more. We can also be seen in the market place purchasing the supplies and tools needed for our traveling community. 
Birds of A Feather - A band of women street singers performing madrigals and other period songs a capella. They wander the streets and you may find them at any corner of the market square.
Where Is She Now - See 11 year-old Alexis Rosinsky give a stunning one person show of Shakespeare monologues linked with illuminating description and narration. She originally performed the show to benefit a local toddler fighting cancer and was able to raise a good sum for the family. Erik Stein of PCPA says "Embrace any chance to see her work."
Alexis will bring her beautiful performance to the Edinburgh fringe festival this August.
Costume Contest - We're always amazed at the great costumes children come in so this year we're going to let them show off their best attire. Everyone comes away a winner. Learn more about the costume contest here.
Shakespeare Unplugged is a collection of Shakespearean vignettes filled with bawdy humor, physical comedy and outrageous swordplay. The show includes accurate – yet slightly irreverent – treatments of A Midsummer Night's Dream, Romeo and Juliet, Twelfth Night, Taming of the Shrew and more! There are also some serious moments for the classical diehards in the audience and, yea, verily, even a sonnet or two.
With five or more professional stunt actors on stage at once, scripted (and unscripted) audience participation, impromptu street performances and the occasional royal court command performance, you are sure to enjoy this special presentation.
Madrigali - a group of 12 musicians who have been performing at Ren Faires for over 20 years. They sing traditional Renaissance madrigals, a Capella. Their preferred format is as "street musicians" where they form a circle and invite faire participants into the middle to experience "Renaissance surround sound."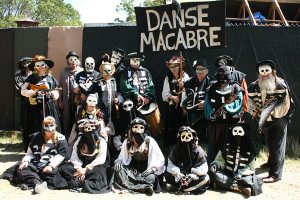 Danse Macabre - This group recreates the Danse Macabre parades of medieval and renaissance Europe; the main message is that all must die, no matter what their station, so everyone should lead a good life and be prepared to die.
They parade throughout the faire at 11AM and 3PM each day. Parades consist of musicians playing renaissance music on recreated period instruments, dancers, and at least one banner carrier. 
All paraders are in mask and either skeleton costume or all (nearly) black costume.
Oakwinds Ensemble - a group of 10 players entertain guests with sopranino to bass recorders, cello, drum and tambourine.
Rising Phoenix Morris Dancers – Rising Phoenix Morris performs traditional dances derived from the Cotswold farming regions of England. According to 17th century written records, it is believed these dances date back to at least the Renaissance. English Morris Dancing is a high-energy, exuberant dance form characterized by waving hankies and sticks clacking together, sometimes even flying from hand to hand.
House of Tudor – This middle class English guild demonstrates trades and crafts, spinning, weaving, ruff making, scale mail, historical make-up and beauty, plus period games such a bowles, card games, dice etc.
The Guilds of St. Barbara's & St. Genesius - This colorful group instructs guests on the weaponry and armaments on the time, period games, crafts and renaissance dance. They have a "small scale" trebuchet which fires a 2.5 pound cabbage ~110 feet. Cole slaw anyone?
Shadow Walkers – This encampment is called the Belladonna Inn. They portray a period merchant class inn and gaming hall. In character they teach patrons of all ages how to play an array of period games including cathedral, shove a ha penny, nine-man's morace, and many others. They also perform different street bits throughout the day to entertain the patrons. 
---
This is just a small sample of the many things to do and see. In addition to the stage shows, the jousts, the dancing and singing, there are living history displays everywhere.
Shop among the merchants offering wares that you won't see any place else. Play games. Test your skill at archery or fencing. Let the kids ride a pony or learn the art of stage fighting. Don't worry moms, it with foam swords.
Oh, and there's a costume contest for kids, held twice daily, with prizes. You can learn more about that here.
Be sure to bring a camera because this is a spectacle unlike anything you've seen, and you want to share the photos with other.
See the entertainment schedule here.

 
Dressing The Queen
Have you ever wondered how those nobles got dressed? If you were a Lady it took a small army of attendants to get you dressed and all cinched up. Gentlemen also had to have servants help then get into their finery. Just getting dressed was a real task. Our very own Queen Elizabeth and her Ladies in Waiting will show you how it's done. Check the schedule on your program (it'll probably be around 11:30). This isn't a peep show, it is all G Rated.